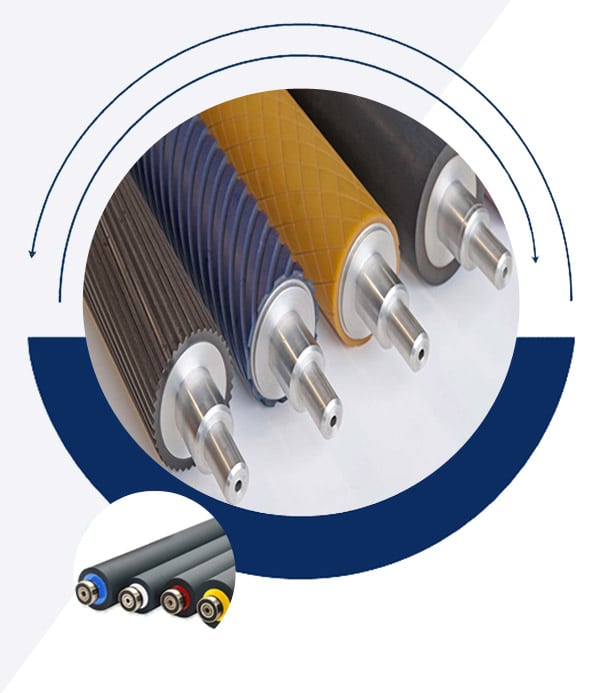 Established in the year 1965 we "Advanced Rubber Roller", are leading manufacturer, exporter and supplier of high quality Rubber & Ebonite Roller, Molded Rubber parts, Molded Rubber Components, industrial rubber components, automotive rubber components, rotary screen printing machinery, Slitter reminder etc. Our Rubbers Roller and Bow Roller have found great relevance in almost all the flexible packaging, Textile Industry; paper Industries, Mills steel industries, Lamination Industries etc. Made up of various types of materials so ensure trouble free life our wide range of showcases bow expander, roller, polymer and web allivers in various different sizes, dimension and models.
Our production teams manufacture this roller in adherence to International quality standard by utilizing superior quality basic materials and advanced technology. The offered product range is highly acknowledged for attributes such as anti-static properties, abrasion resistance, and long service life. Our management structure is designed to bring the skills and experience to bear the most efficient way possible, facilitating decision making across all the business units. Quality is our foremost objective of our company hence the whole products are tested on various parameters by our quality controller.
Due to extensive research and development facilities provided by our CEO MR. Pravin Patel that we have been guide us to design and produce upgraded and innovative products that are durable, minimum maintenance, flawlessness and more suited for the contemporary requirement.
Advanced Rubber Roller is a company dedicated to providing the premium quality range of Rubber & Ebonite rollers, moulded rubber parts, molded rubber components, industrial rubber components, Rotary screen Printing machine, Slitter rewinder etc.
We Quality assurance company where the quality of machineries and its components as they are being manufactured in our own organization which is well equipped with all necessary quality raw materials which are carry out up this final stage of assembly to ensure export quality.
Our quality control is all about providing excellent quality machines to our customers which gives maximum output with minimum cost and less maintenance. Our organization adheres to a certain quality control checks in which our products have to pass through certain test in order to ensure the products meet the International standards. Our Quality Control means 100% Customers satisfaction and passing & approval of machines according to our high quality standards. Beside this, we have a team of quality check managers that are always engaged in monitoring the products before they are finally delivered to the market.